The Nerd Fitness Superhero Training Camp is reopening May 11-15, 2022 in Clayton, Georgia for 5 transformative days of leveling up your super skills alongside the greatest mentors and sidekicks in the galaxy!
Team NF's Coaching squad and other hand-selected instructors are your guides for this journey – making you feel empowered by how your body moves, building your confidence with what and how you eat, and helping you overcome mindset challenges that always felt insurmountable. 
You'll push beyond the limits of what you think you're capable of. You'll use your 20 seconds of courage to try something new (and you'll actually like it!). You'll surprise yourself when you see what you can achieve with hundreds of other Rebels by your side, rooting you on.
Camp Magic is all the super serum you need to unlock your own superhero potential!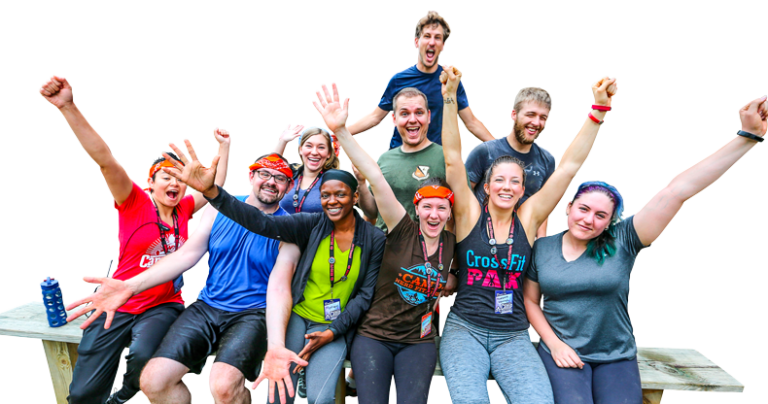 Professor X. Captain Marvel. Black Panther. Nick Fury. Queen Hypolita.
They all have a couple things in common.
First: they're all respected leaders and mentors who helped unlock the world-changing potential of those around them. (No big deal.)
Second: they've all agreed to teach at Camp Nerd Fitness!
I wish.
Your heroic teachers may not come from the pages of comic books (or wear skin-tight super suits), but after learning alongside them for a few days, their impact on you will be just as profound!
Rebel Leader Steve and other members of Team Nerd Fitness will teach a variety of classes across fitness, nutrition, mindset, and more. NF Coaches also can't WAIT to connect with their current (and future!) clients face-to-face for the first time!
We've also invited other specialists to share their super skills! These incredible Instructors will help you dive deeper into topics you're passionate about or will be there to welcome you as you try something new.
Specific classes will be announced prior to Camp, but you can expect to learn from these Heroes (with even more to be announced later!):
Sure, you'll learn a lot about health and fitness from your incredible team of instructors, but Camp is also about FUN!
Here is just a taste of some of the additional activities you'll be able to look forward to at Camp Nerd Fitness in 2022:
Ticket Options and Pricing
Ticket pricing for Camp Nerd Fitness is based on the rooming accommodations you choose, but ALL ticket types include your event basics:
Those who placed a deposit for the pre-sale will have priority access to tickets at the discounted rates below, with your $199 deposit applied to the first payment (regardless of whether you choose to pay in full or opt for a payment plan).
There are three different rooming options: Group Bunk, Semi-Private Room, and Private Hotel Rooms.
Basic info for each type is below; click to learn more about each option, including photos!
Group Bunk
Get the TRUE Camp experience alongside your fellow campers!
$ 949 Starting Price*
Choose Top, Bottom, or Full Bunk

Embrace the spirit of community!

Shared bathroom facilities

Top Bunk - $949 per person

Bottom Bunk - $969 per person

Full Bunk - $1,149 per person
Semi-Private Room
The fun of the bunks - with a quiet room to decompress!
$ 1,349 Starting Price*
Available as Singles or Doubles

Room with a door for privacy

Shared bathroom facilities

Choose your roommate or we'll match!

Double Room - $1,349 per person

Single Room - $1,879 per person
Hotel Room
A private retreat to rest and recharge!
$ 2,049 Starting Price*
Available as Singles or Doubles

Full or Queen sized beds

Completely private space

Private bathroom in your room

Double Room - $2,049 per person

Single Room - $2,849 per person
Payment plan options are also available for all ticket types. Click "Learn More" for details.
*All prices will increase when remaining tickets are released to the general public.*
Camp Nerd Fitness is currently in Pre-Sale Mode, which means that those who placed a deposit in September will be first up to book their tickets for Camp in early December.
Specific details will be e-mailed to this group about exactly how (and when) to lock in their ticket. 
Should any tickets remain after the pre-sale, they will be released to the general public in January 2022. More information will be released about this once the pre-sale period has ended. Make sure you sign up for the e-mail list below to receive updates!
What else is on your mind, camper?
We've answered several common questions below, but don't hesitate to email us at Camp@NerdFitness.com if anything else is on your mind.
Join the Camp Nerd Fitness mailing list, and you'll be first in line to get event updates and info